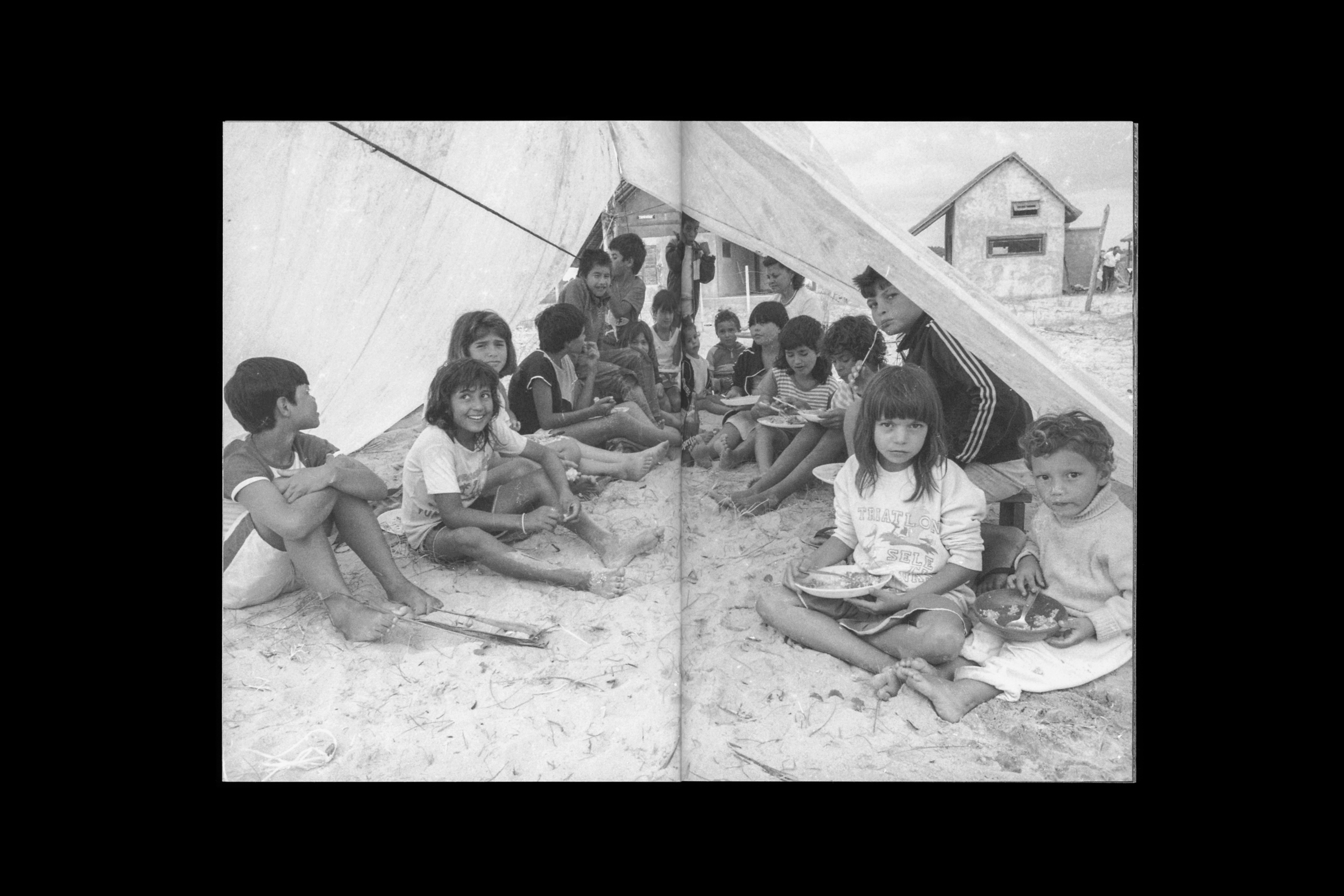 ---
32 P, 155 X 220 MM
---
OFFSET DUOTONE BLACK + SILVER 877


---
FIRST EDITION OF 200

---
ISBN 978-9974-8782-5-9

---
ES

Vidart muestra una Valizas totalmente distinta a la actual. Un registro bisagra entre las dos épocas, intuyendo el vertiginoso cambio que la convirtió en lo que es en la actualidad. "En ese tiempo era un balneario casi sin turismo, solo unos pocos aventureros que buscaban un 'retiro' en tiempos duros para nuestro país" solía señalar. A fin de sobrevivir, tanto los lugareños como los recién llegados iniciaron de a poco un proceso de metamorfosis, asumiendo hábitos y costumbres. En los años noventa Jorge vivió y armó el Patios del Mar, boliche que reunía en interminables veladas a poetas y a artistas, así como a pescadores, camaroneros y a algún turista europeo trasnochado.

Jorge Vidart (Sauce, Uruguay, 1950 - Montevideo, Uruguay, 2018).
Fotógrafo analógico. Expreso político. Como reportero gráfico fotografió casi todo el país. Corresponsal de agencias internacionales, viaja a Paraguay, Nicaragua y Cuba. Publica Nicaragua Nicaragüita con textos de Eduardo Galeano. De 1999 a 2012 vive en Paraguay, trabaja en medios, imparte talleres y realiza muestras individuales y colectivas. Publica 400, fotografías sobre el incendio de un supermercado de ese país. En 2018 el CdF expone parte de su obra durante el ciclo Diálogo Oriental, además publica Patria que reúne imágenes de Uruguay. Fallece inesperadamente, ese año, en Montevideo.



EN

Vidart shows a Valizas that is completely different from the current one. A hinge record between both times, intuiting the vertiginous change that turned it into what it currently is. 'At that time it was a resort with almost no tourism, just a few adventurers who looked for a "retreat" during hard times for our country', he used to point out. In order to survive, both the locals and the newcomers slowly initiated a metamorphosis process, adopting habits and customs. During the nineties, Jorge lived and built Patios del Mar, a bar where poets and artists, as well as fishermen, shrimpers and some European tourists who had stayed up late, gathered for endless evenings.

Jorge Vidart (Sauce, Uruguay, 1950 - Montevideo, Uruguay, 2018).
Analogue photographer. Ex political prisoner. He photographed almost all the country as a press photographer. He travelled as a journalist for international agencies to Paraguay, Nicaragua and Cuba. He published Nicaragua Nicaragüita with texts by Eduardo Galeano. From 1999 to 2012 he lived in Paraguay, worked in media, gave workshops and had solo and collective exhibitions. He published 400, photographs of a supermarket fire in that country. In 2018 the CdF exhibited part of his work during the Diálogo Oriental cycle, and also published Patria, which gathers images of Uruguay. He died unexpectedly, that year, in Montevideo.