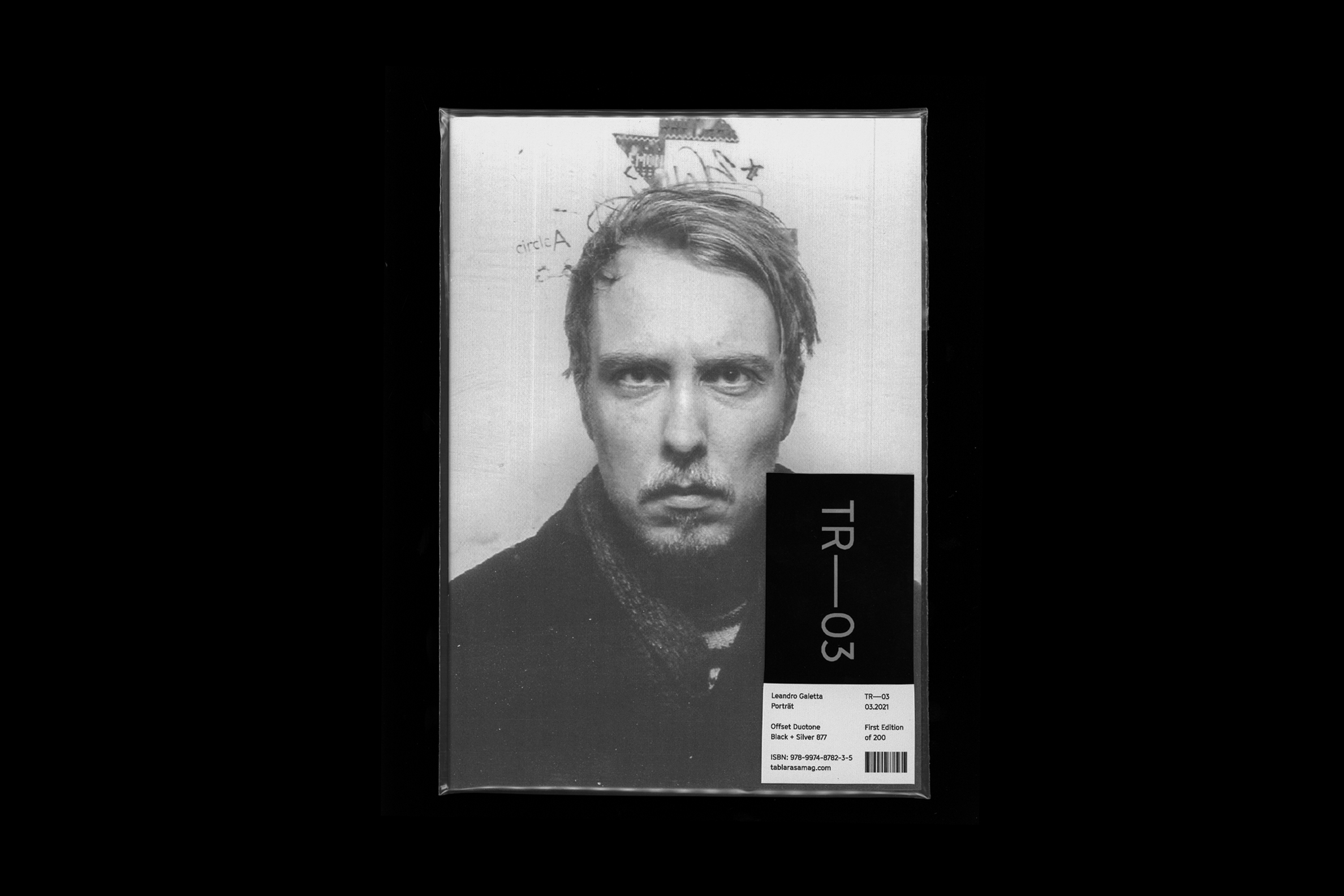 ---
32 P, 155 X 220 MM
---
OFFSET DUOTONE BLACK + SILVER 877


---
FIRST EDITION OF 200

---
ISBN 978-9974-8782-3-5

---
ES

Berlín, una o dos personas acomodadas sobre un taburete en la estrechez y oscuridad de las fotocabinas Photoautomat. La cuenta regresiva. La decisión de cambiar el gesto en el último instante. La luz verde que se enciende. Afuera, temblando de frío y sin monedas, el fotógrafo —que en esta ocasión abandona su rol detrás de la cámara y se convierte en maestro de ceremonia y en curador del proyecto— espera los interminables vier minuten para conocer el resultado.

Leandro Galetta (Paysandú, Uruguay, 1984).
Fotógrafo, iluminador escénico, director y cofundador de Bruto Videos. Realiza sus estudios de fotografía en la Escuela Nacional de Bellas Artes, UDELAR. Ha participado en exposiciones individuales en Alemania, Uruguay y Rusia. En 2018 su corto en Super-8 Did you take the koke? fue seleccionado por el Schmalfilmtage Dresdener Festival, Dresde, Alemania. Crea y publica colectivamente tres fanzines: Bäambang, 2015, The genesis of the female fitness sailor, 2018, Alemania; Entschuldigung, 2019, Uruguay.


EN

Berlin, one or two people sitting on a stool in the narrowness and darkness of the Photoautomat photo booths. The countdown. The decision to change expression at the last instant. The green light which goes on. Outside, shivering with cold and with no coins, the photographer (who this time abandons his role behind the camera and becomes master of ceremonies and project curator) waits endless vier minuten to see the result.

Leandro Galetta (Paysandú, Uruguay, 1984).
Photographer, theatre lighting technician, director and co-founder of Bruto Videos. He studied photography at the Escuela Nacional de Bellas Artes, UDELAR. He has participated in solo exhibitions in Germany, Uruguay and Russia. In 2018, his Super-8 short film Did You Take the Koke? was selected by the Schmalfilmtage Dresdener Festival, Dresden, Germany. He collectively created and published three fanzines: Bäambang, 2015,The Genesis of the Female Fitness Sailor,2018, Germany; Entschuldigung, 2019, Uruguay.